Fantech CVS275A Multi-Port Ventilation 2-Points - 245 CFM
---
Product Description
Fantech Multi-Port Centrifugal Fan for Round Duct (CVS 275A)
Multi-unit housing makes incredible demands on ventilation. Fantech's CVS Series inline duct fans are designed to meet those challenges with ease.

These lightweight circular duct fans have been engineered for installation in areas with limited space, such as between floors in apartments buildings or high rise suites. The multi-port direct driven centrifugal fan can exhaust up to several points and multiple applications into one central point without the use of adapters or transitions. The motorized impeller is both statically and dynamically balanced as one integral unit, for vibration-free and whisper-quiet performance.

Fantech CVS fans are simple to install, with all parts included (ducted exhaust fan casing, motor assembly, cover, and sheet metal screws). Simply select the fan mounting location, taking into account the type of application, service accessibility, and distance from exhaust point (to minimize fan operating noise). Next, fasten the mounting casing to the ceiling, using either threaded rod or wires to suspend the unit. Finally, connect the ductwork to inlet and outlet of the fan using CB or FC clamps or duct tape. Congratulations-you've just installed one of the world's finest multi-port fans.

Model CVS 275A allows for two ventilation points, delivering 220 CFM @ .2" WG

FEATURES:
Galvanized steel housing

External rotor motor with backward-curved centrifugal fan wheel constructed of high-density polyamide, easily removable from housing for service without disturbing the installation

Internal scroll for maximum air performance

Well-designed inlet venturi for optimum efficiency

Permanently lubricated sealed ball bearings

100% speed controllable for highly efficient and economical airflow

Suitable for airstream temperatures up to 140° F

Tested and approved by UL and CSA (or equals)

Five-year warranty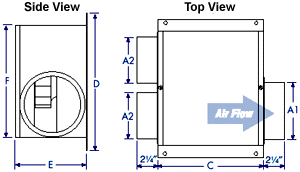 A1 = 6"
A2 = 5"
C = 11"
D = 15"
E = 7 6/8"
F = 12"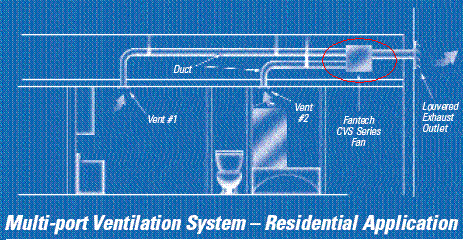 Product Specifications
Manufacturer - Limited 1 year warranty
Find Similar Products by Category
Customers Who Viewed This Product Also Viewed