FANTECH SURFACE FAN CONVERSION KIT- BFRK 100
Do bathrooms fans have to sound like a wind tunnel to get the job done? The truth is, noisy bathroom exhaust fans lose much of their effectiveness, simply because people don't want to use them. So, odor, moisture, mold and mildew build up. Even the most elegant bathrooms become unattractive, and may suffer long-term damage.

Convert Your Existing Noisy Bath Fan Into A Quiet Yet Powerful Fantech Bath Exhaust System

The new Fantech Bath Fan Conversion Kit (BFRK 100) includes a 110 cfm Fantech remote mount inline fan (FG4), mounting bracket, insulated flexible duct (8 feet), two 3"-4" adapters, cable connector, wire (12 feet), tape, plus complete how-to instructions.

The do-it-yourself kit allows a homeowner to use their existing exhaust fan grille and housing as the inlet for your new system. That means the ceiling is left undisturbed so there's no need to worry about patching drywall.

Fantech bathroom exhaust fans are designed to operate quietly and effectively, so people actually use them. Yet their affordability means they're right for every bathroom-from simple to luxurious.
INSTALLATION TIPS
- Locate vent as close as possible bath fixtures (toilet, showers, and hot tubs
- Fantech recommends the use of insulated flexible duct for the exhaust system
- Place at least 8 feet of duct between intake grill and fan (insulated flexible duct allows sound from the fan to dissapate gradually so that it can not be heard in the bathroom)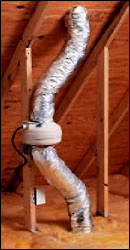 Typical attic installation.